2015 Babies Arrived on 3/15
2 black females
2 very dark s/p boys
1 very dark s/p girl
Dark salt and peppers are abolutely beautiful. They have the s/p markings with a very black topcoat. They can keep this intense black color with correct grooming techniques.
Sweet Babies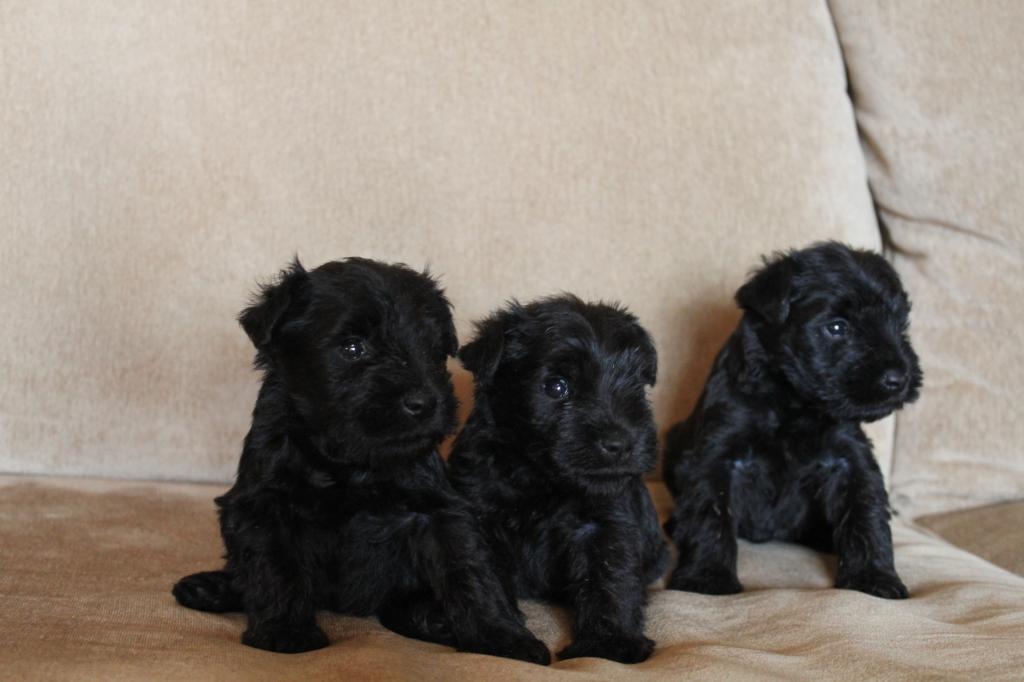 Tess on the right (above) is going to Virginia to live with her sister Sadie.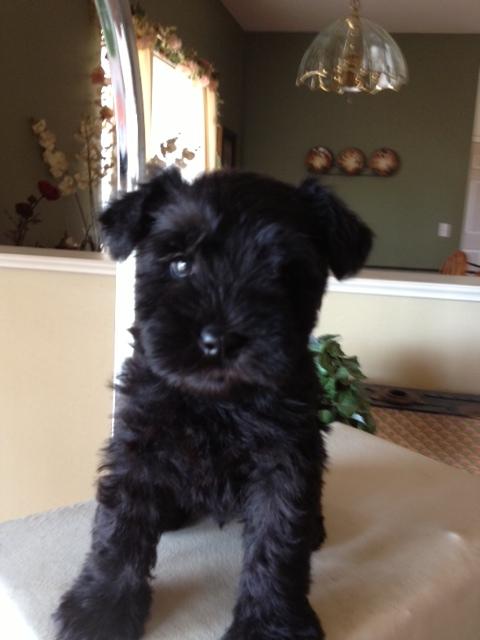 Moving to Hibbing, Minnesota
_________________________________________________________________________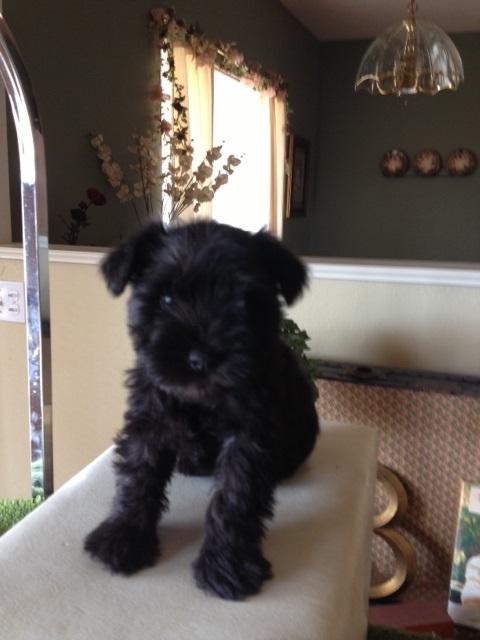 Max is going to Stillwater, OK
________________________________________________
Puppy Info
Your New Miniature Schnauzer Puppy
Besides being preloved and a little spoiled, each puppy goes to their new home with the following:
>CERF eye exam performed by a veterinary
ophthalmologist
>up-to-date vaccinations
>tail docked by a veterinarian
>vet newborn health check
>dew claws extracted by a veterinarian
>deworming treatments
>AKC limited registration with Sire's DNA number
>transition puppy food
>first toy with mama's scent
>first puppy haircut if desired
>four generation pedigree on request
>"puppy firsts" photos and updates
>socialization program
>paper training
>crate training
>updates on your puppy's progress until traveling
to their new home
>continued support long after you adopt your new
baby
Our champion bloodline puppies sell for $950 each. We have worked very hard to acquire AKC show line parents with exceptional quality, thus helping to insure good health, beauty, and outstanding temperaments. Then we do the best job possible to set up all the conditions so each puppy has the best start possible, including daily cuddling. Socialization is very important to help each puppy transition to their new homes and to be a well adjusted member of their new family.
We offer a guarantee against any life threatening genetic illnesses as verified by a licensed veterinarian until your puppy is a year old.
Shipping is available only if necessary and the separate price reflects the current airline ticket, health certificate, and puppy crate. (currently about $300 total)
We do ask for a $250 deposit to hold the puppy of your choice. If you change your mind before the puppy is six weeks old, all of the deposit is returned. If you decide after the puppy is six weeks of age, we will return $150. (I have never had to return a deposit.)
We love each puppy and want to insure they are adopted by the right family; therefore, we visit with all potential puppy buyers in person or on the phone. We may also ask to contact your veterinarian. In addition, feel free to ask us any questions that will help you make a more informed decision regarding your new addition.
Puppies can go to their new home at ten weeks of age so they have had some of the necessary socialization from our family and from their schnauzer parents.
___________________________________________________________________________________
2012 Litter Below..... All went to loving homes.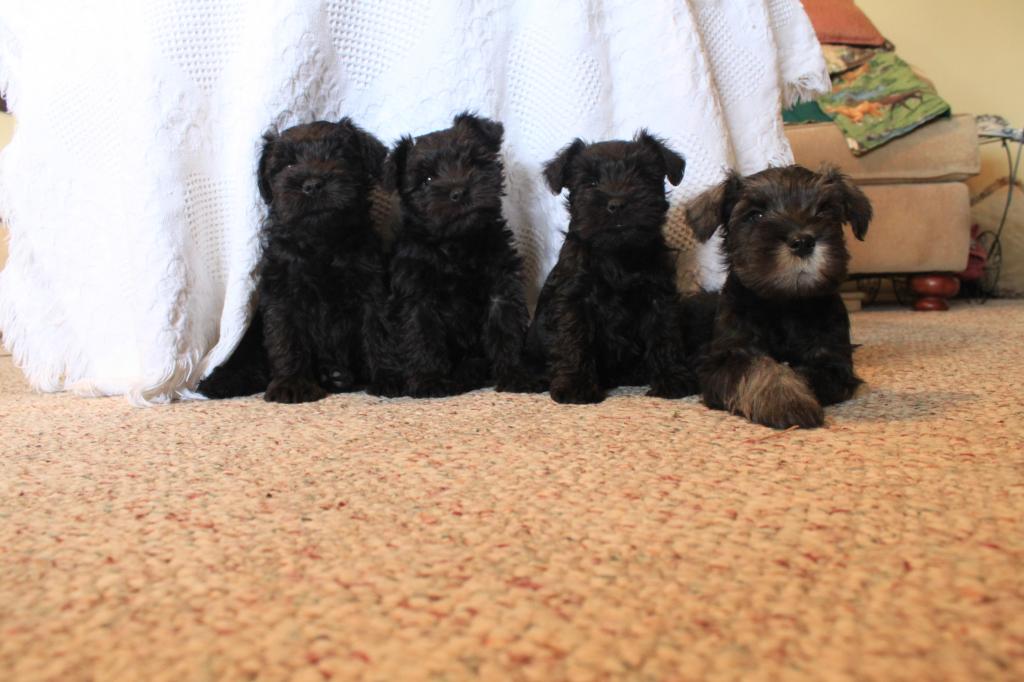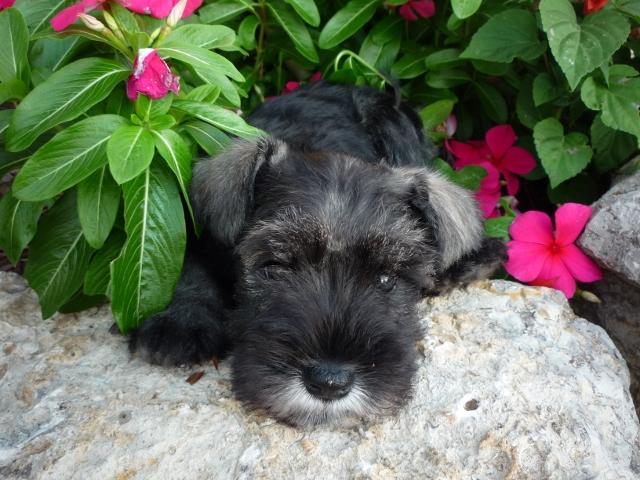 Little Miss Sassy Pants (above) will be going to Hawaii soon to be with her family.
Puppy and her mama (Jazzy) below.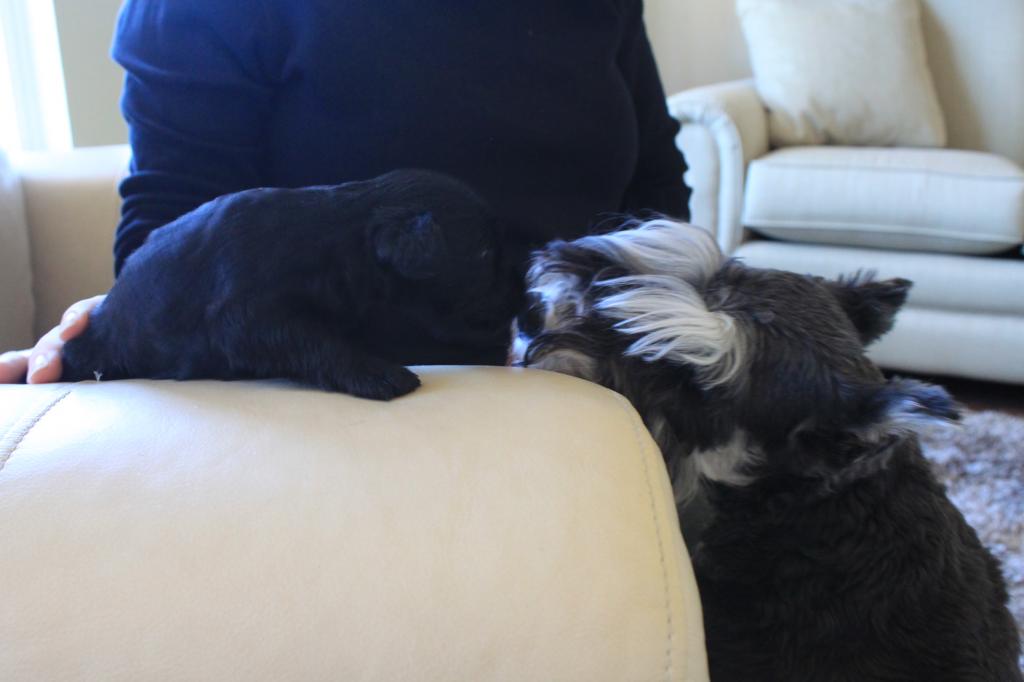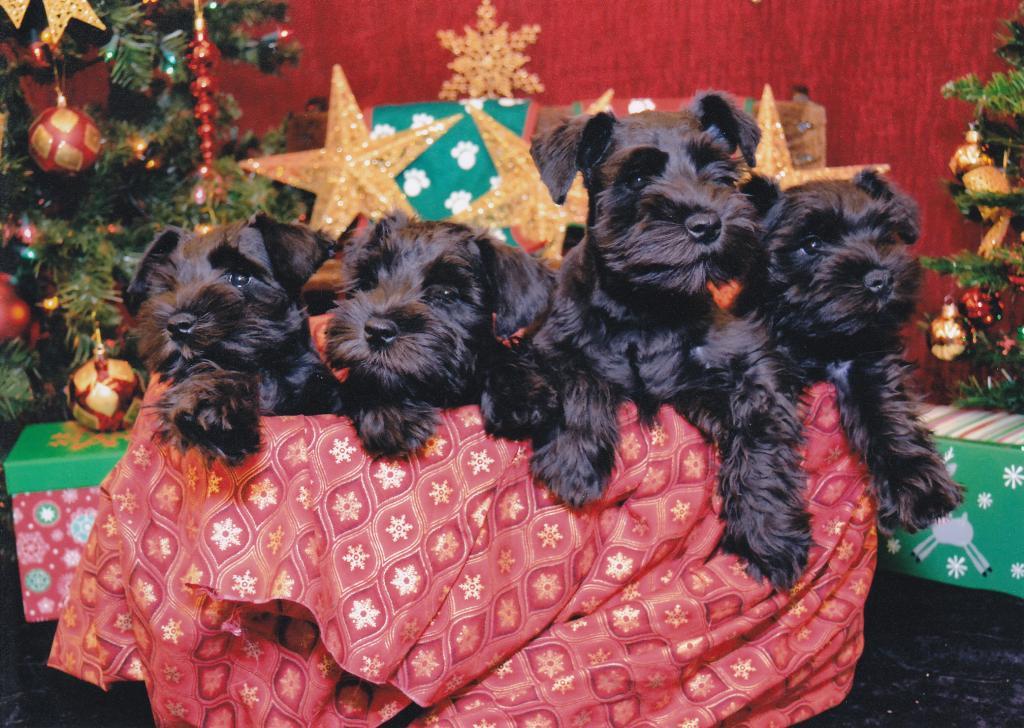 2011 Christmas Litter. One puppy had already gone to her new home when the picture was taken.
The fun picture below features a litter of puppies that Winston sired with our retired schnauzer mama, Tootsie. Tootsie is now 13 and a very active, healthy, member of our family. (shown in the photo on the Home Page.) She helps to raise Jazzy's puppies and gives them a few old school lessons. We like to call this photo below the "Congo Line."