2015 Babies
All puppies have moved to their forever homes to begin their new adventures. I am so excited that each baby found a fantastic family where they can be blessed and be a blessing.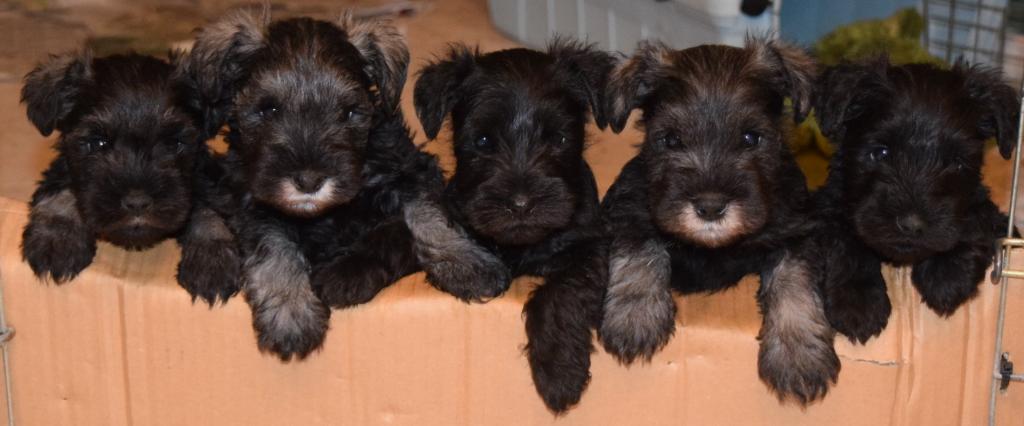 Babies at 5 Weeks of Age - Group Photo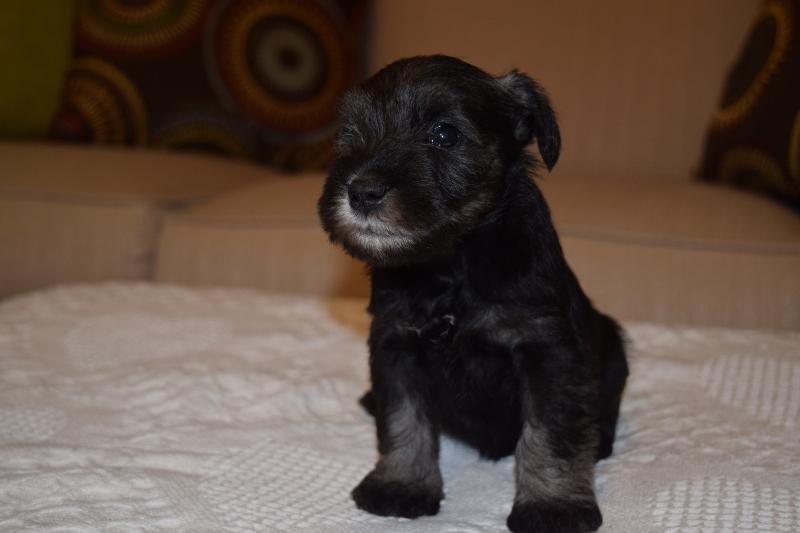 2nd from the right in the group photo above. Auggie
This little boy is always the first to greet me in the morning. He loves to be cuddled and is already coming when he hears kisses. He will be an excellent companion. He is a dark salt-n-pepper with a black topcoat. He will be living with the Krueger Family along with his sister in Oklahoma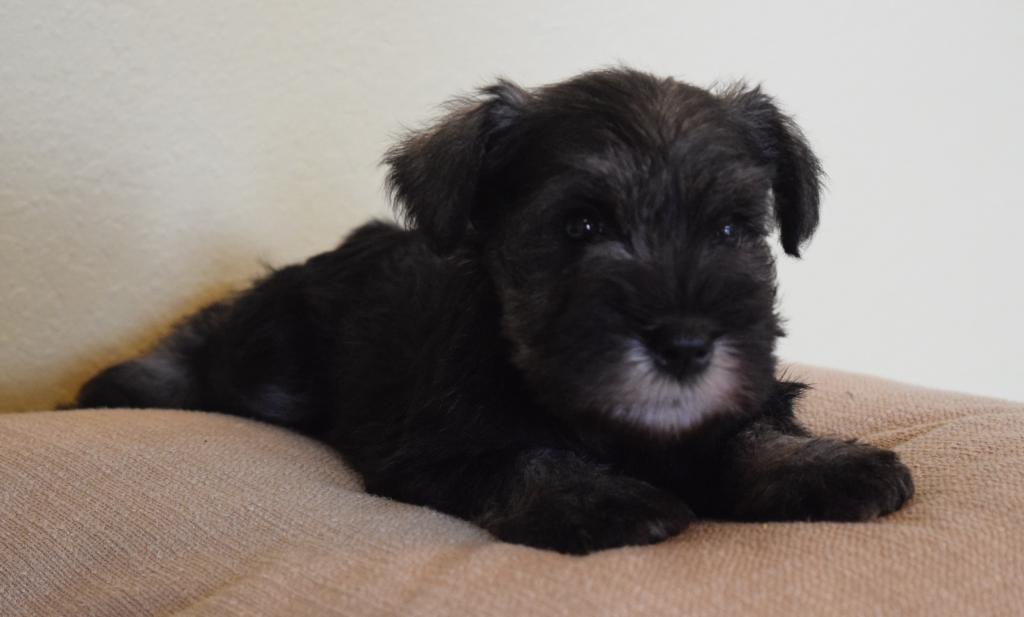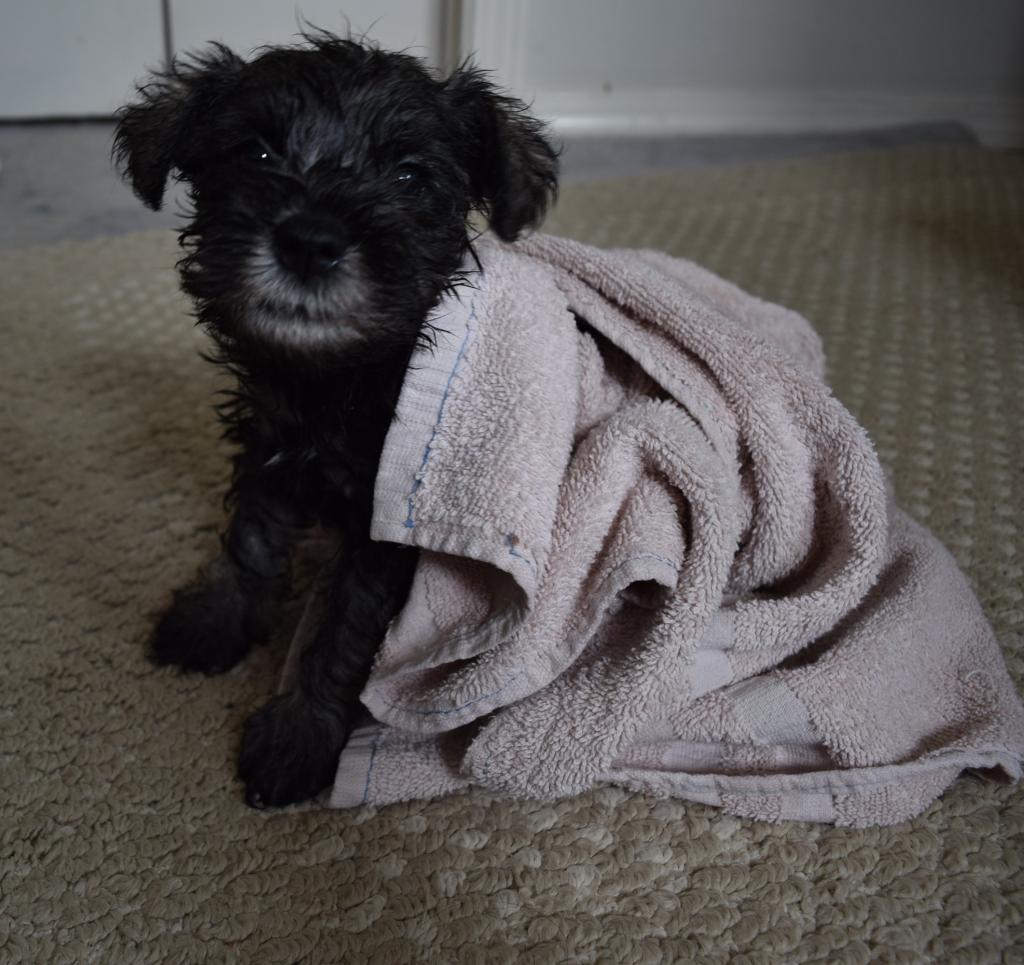 2nd from left in the group photo above. Luke
This sweet little guy is a mommy's boy and a little bit cocky. He absolutely loves to be handled. He has no issues with bathtime or getting his nails clipped. He is considered a salt-n-pepper, but has an intense black topcoat. He has two photos above.
Luke is living with the Strong Family in Texas.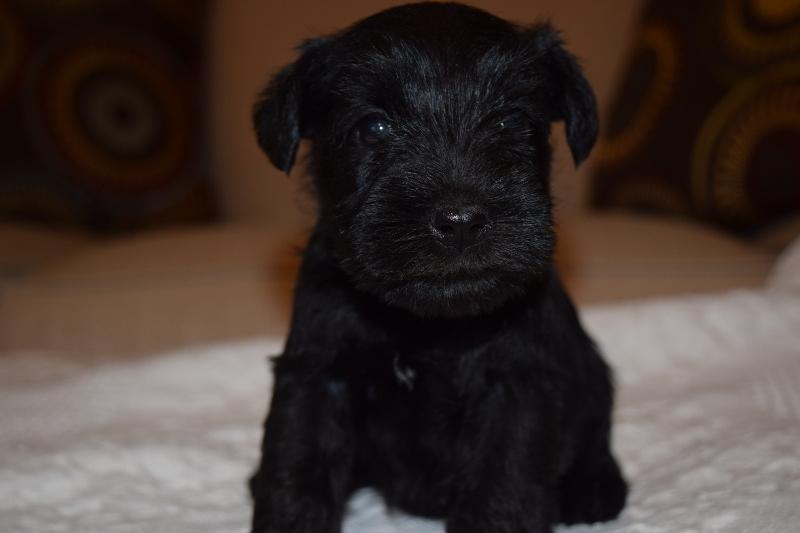 Far right in the group photo above. Lucy
This baby is very laid back at this age. She is a cuddler and enjoys climbing into just about any lap. She has a very intense black coat that is a traditional schnauzer coat.
She is living with the Krueger Family and her brother, Auggie.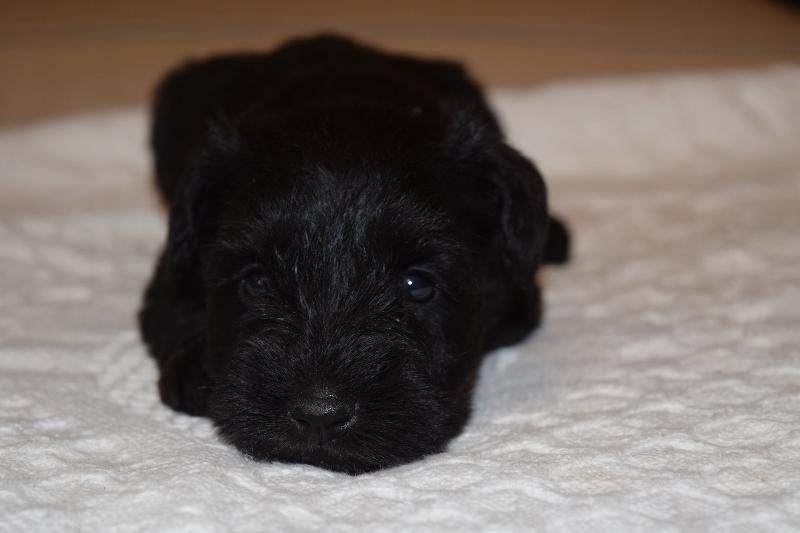 In the middle in the group photo above.
This sweet girl is very confident and very beautiful. We love to see this confidence at such an early age. She struts around the kitchen likes she owns it. She will have a lovely fluffy coat.
She is living with the Boyce Family in Oklahoma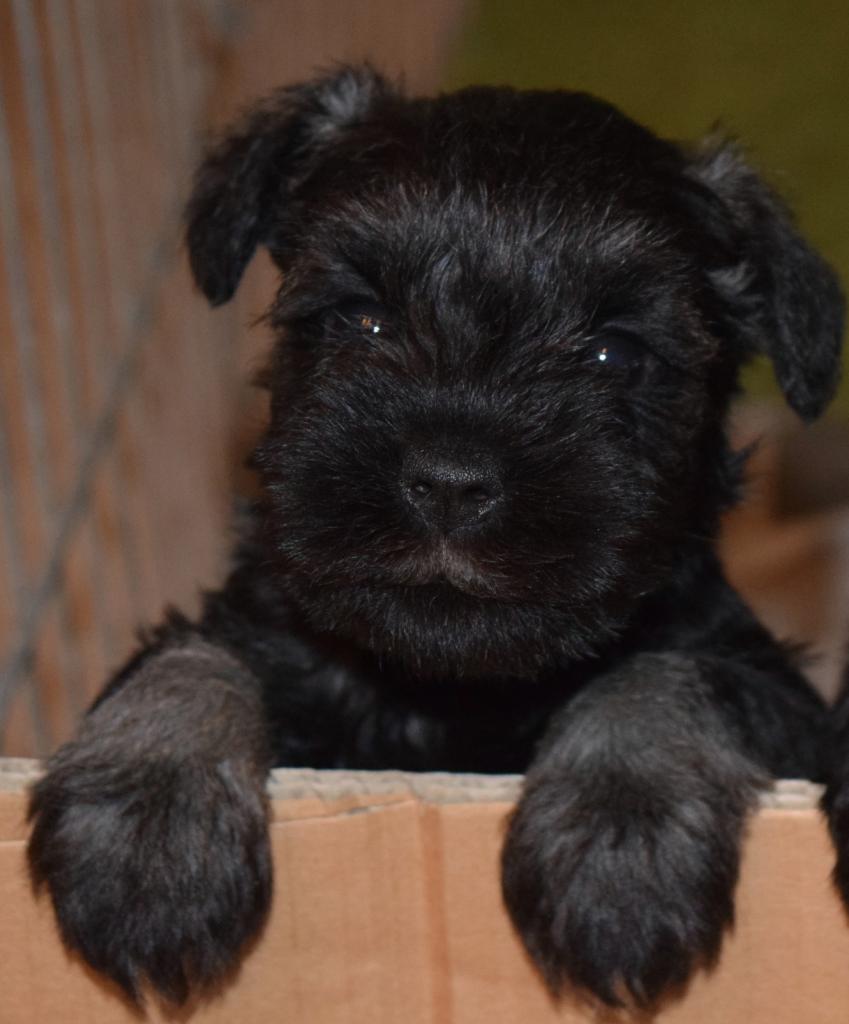 Far left in the group photo above.
This incredible very dark salt n pepper girl rules the roost. She is the smallest in the litter but loaded with personality and confidence. Like her siblings, she will be great with children. She is living with the Potter Family in Texas.
_____________________________
Puppy Info
All puppies come with the following:
>AKC limited registration papers with sire's DNA
number

>tails and dew claws removed
>veterinary check up
>eyes examined by a veterinary ophthalmologist
>first photos upon request
>five generation pedigree upon request
>cuddly toy with mom's scent
>one year health guarantee against life threatening
genetic illnesses as verified by a licensed veterinarian

>support long after you adopt your puppy
Our Champion-bloodline puppies sell for $950 and will be ready for their forever home when they are between 9 and 10 weeks of age.
Our rigorous socialization program helps to get the puppies ready for their transition. They will be exposed to all of the sounds of a busy household including:
vacuum cleaner and other cleaning supplies
all grooming tools including bathtime and blower dryer
outdoor equipment
children
other pets (including our cat Cato)
child's trombone lessons
I love visiting with people about Miniature Schnauzer and welcome any questions or inquiries about our sweet fur babies.
_________________________________________________________________________
2014 Babies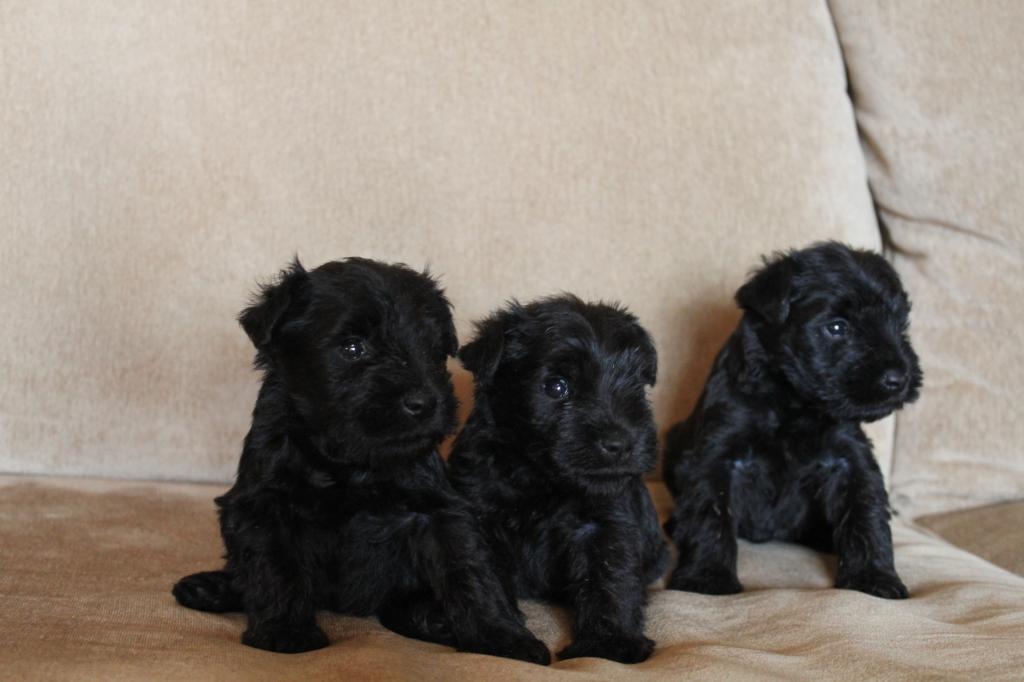 Tess, on the right is living in Virginia with her sister Sadie from a previous litter. They both have a wonderful family.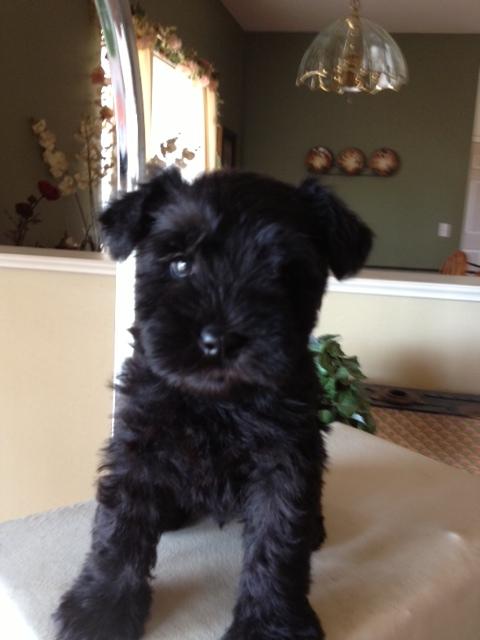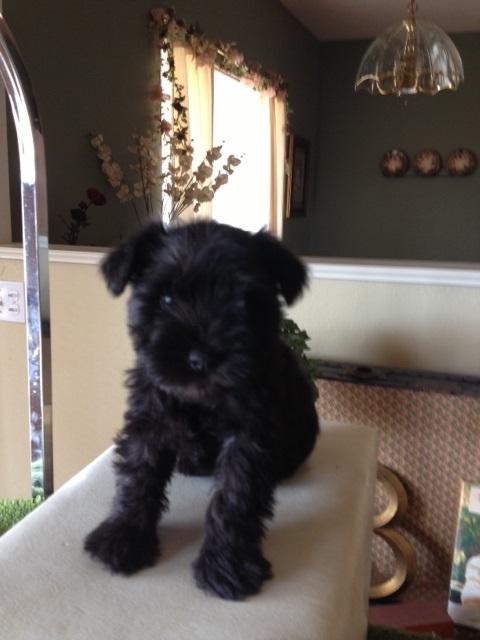 Hunter now lives in Hibbing, Minnesota.
Max is living in Stillwater, OK helping to mind the store.